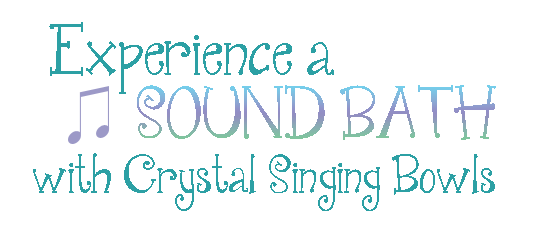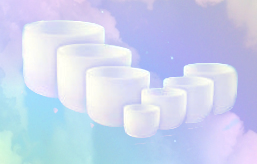 A form of Holistic Healing & Somatic Therapy
The ancient practice of singing crystal bowls is also known as "Sound Baths". The beautiful  bowls are made out of quartz crystal from the earth and each one is tuned to corresponding frequencies that align with the energy centers(chakras) in our body. The sounds effortlessly bring balance and harmony to our body, mind and spirit. The tones naturally shift our energy field as they enrich us with positive vibrations and a powerful sense of well-being. The harmonic resonance and range of beats transform the body into various brainwave states of calmness and deep relaxation.
The science behind this acknowledges the body as an electrical force (like an antenna) that naturally aligns with each frequency in the crystal singing bowls since they're created from natural elements that are attuned to the energy centers in our body (known as chakras).
Our bodies are like sponges and we absorb so much energy that isn't ours throughout our days which eventually leads to overwhelm and pain- in modern days we call this ADD, OCD, stress and anxiety.
With the bowls assistance, we induce a natural state of relaxation in which it becomes effortless to release all that isn't serving us. Even though each one of us is unique in our needs, it's clear that the changes the bowls facilitate creates a catalyst for healing and release.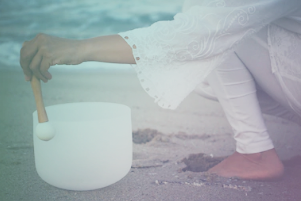 Some of the benefits:
Anti-anxiety
Emotional Balance
A Clear Mind with Increased Focus
Feel Lighter in Your Body
Deeper and Restful Sleep
Stress Relief
Harmony and Flow
Deep Relaxation
We offer sound bath healing sessions for all ages and are open to travel to clients and healing centers. We also offer to record sessions made just for you and send them digitally.
These sound healing sessions are an immersive journey for the soul and one that is difficult to describe in words and effortless to experience.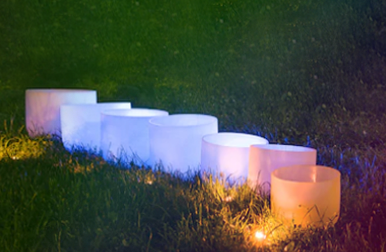 Currently, we're excited to offer meditation & sound healing playshops in the San Francisco Bay Area for children between ages 5 to 12.  We've incorporated the singing bowls into our playshop structure as they organically flow unnecessary energies and tension out of the children's bodies.  As the children are meditating and creating art, they also receive a sound bath that creates an in-depth energy healing with profound affects. Most parents are shocked to notice the focused, relaxed state their child is in after about 15 minutes of the bowl experience.
For more info on our meditation/ sound playshops & singing bowls for children click here.